Goa has a number of amazing hostels where you can chill, party, socialize and have a great time at super-cheap rates. While searching for hostels in Goa, first you got to decide whether you want to stay in North Goa or South Goa. South has got a peaceful vibe to it and North is where all the action happens. However, most of the good hostels in Goa are located in the North only; that too in the Vagator, Anjuna and Arambol areas as these areas are popular with backpackers.
A large population of youngsters in India are still unaware of the existence of the system of backpacker hostels. Hostels are the cheap accommodation options where you only get a bed in a dormitory, have to use shared bathrooms and other shared facilities but you get to hang out with people from around the world, you can participate in games, parties, events that are organised at these hostels almost daily. You can surely make some unforgettable memories and new friends for life.
In Goa, there is no hostel that exclusively brands itself as a party hostel, but there are some hostels which are very close to being a party hostel and they're all in the north Goa. We have listed the best backpacker and party hostels for you.
Hostels in North Goa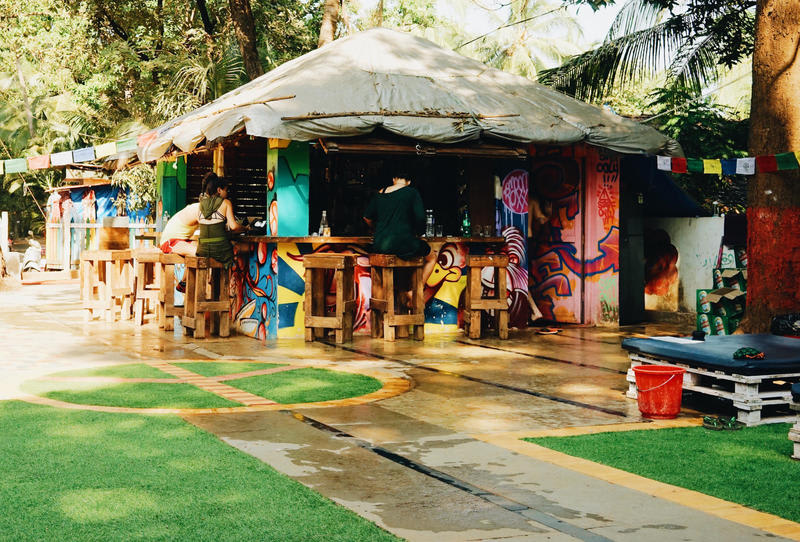 Close to Ozran beach.
Has a bar, common area, board games and activities, events and music.
Plus you get free entry to nearby Party Place LaRive.
No cons worth noting.
Pros:
Super-friendly home-like vibes.
Neon room for partying at night
Facilities: Has a kitchen, Bar and cafe, board games in the common area.
Cons:
No in-house restaurant.
No cancellation policy.
Pros:
Great for nature lovers, solo travelers.
Built in a traditional Portuguese house has terraces, common area and a huge garden.
Special facilities: Free breakfast and a fully equipped kitchen.
Cons:
Private Rooms are expensive considering the room quality.
You'll have to rent a towel, its not free.
Located 2 km from Anjuna & Vagator beaches.
You'll feel close to the nature. It is located in a forest and even has its own organic farm. Also, it is a renovated old Portugese villa.
Excellent hospitality.
No cons worth noting.
Located in Vagator close to the beach.
Has a common area, garden with hammocks, fully equipped kitchen, free filtered water and secure lockers.
All guests, including Indian citizens, are required to provide original Passports at check-in.
No cons worth noting.
Located in Calangute area. 10 minutes walk to Calangute beach.
Has a kitchen, common area.
Food is really good here.
No cons worth noting.
5 minutes walk to the Anjuna beach
Has a garden, Kitchen, bar & cafe with a restaurant.
All guests, including Indian citizens, are required to provide original Passports. It is a strange thing though.
No cons worth noting.
Best for Digital Nomads, haven for the environment lovers.
A new Hostel.
Facilities: Common rooms, fast wifi, in-house cafe.
Free Breakfast.
No cons worth noting.
Party Hostels in North Goa
5 min walking distance form the famous south Anjuna beach.
Has an in-house bar and a common area.
A lot of events- Psychedelic Tuesday's at the Shiva valley, party at Curlies , UV Bar all around the week .
A valid passport is compulsorily required to check in even for Indians.
Located in Vagator.
Kind of a party hostel.
Events- dance workshops, yoga workshops, etc. , tours, games- beer-pong, etc.
Bike, Car, Jeep, towels can be hired from the reception.
Breakfast, Lunch and Dinner combo at $6. Breakfast for $1. Unlimited beer pass (4hrs) + a bucket list shirt $15.
Hostels in South Goa
Super clean and super-friendly staff.
Has a Common Area, bar and a restaurant, library and a Kitchen.
About 10 minutes walk to Palolem beach.
Has a common area, a big garden, a kitchen, a washing machine for laundry.
Passport is Mandatory.
Pros:
Activities such as kayaking and yoga, etc are organised.
Facilities: Bar & a Cafe, common area, free breakfast, a washing machine.
Cons: No Kitchen
Info and Tips
A lot of hostels in Goa require you to have a valid passport even even if you are a Indian citizen. So, if you don't have a passport, check the hostel rules before booking.
Carry a pair of small locks with you. Most hostels provide lockers but not locks.
Here are some common rules of all hostels:

Mostly all hostels have reception working hours 09:00-23:00.
Almost none of them allow groups of larger than 4 people 
A lot of them don't allow guests below the age of 18 and above the age of 40.
Mostly bookings around New year are non-refundable.
Happy Travelling !!