Hostels are the perfect places for Backpackers, Solo Travelers, Budget Travelers, Party Animals or anyone who is willing to socialize, make friends globally. This post categorizes the hostels in Krabi into Party, Non-Party and Offbeat hostels and lists the best hostels in Krabi for each category.
Also read:
Where to Stay in Krabi
When you are staying in Hostels the atmosphere inside is more or less social, but the atmosphere outside depends on the area you are staying in. You may have different tastes and requirements and the following classification will help you find the best area for you.
| | |
| --- | --- |
| Area | Best For |
| Ao Nang, Krabi Town | Solo-Travelers, Social Couples. Ao Nang is the most vibrant area with famous ao-nang beach while Krabi town has more of a city vibe to it with less nightlife. |
| Railay, Klong Muang | Privacy seeking Couples. Railay is scenic with panoramic views while Klong Muang is more of a resort town. |
Categories of Hostel
| | |
| --- | --- |
| Hostel | Best For |
| Party Hostels | Party Animals: Solo-Travelers/ Couples/ Groups |
| Non-Party Backpacker Hostels | Travelers looking for a peaceful stay. |
| Offbeat Hostels | Travelers looking for for an offbeat experience. |
Best Party Hostels in Krabi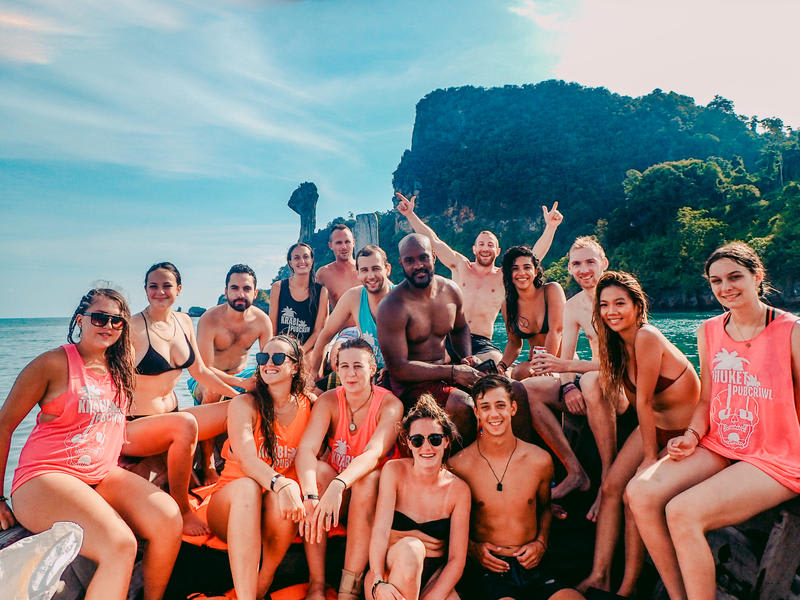 Slumber party is an established brand in party hostels.
Location: 2 Km to the beach.
Free beach transfers four times a day.
Activities: Day tours, Island trips, Pub Crawl, Beer- games, etc.
Note: They don't accept bookings from people over the age of 35.
2. Slumber Party Hostel Ao Nang Beach
Another Slumber party property in Krabi.
Location : Right on the beach.
Activities: Pub crawls, island tours, jungle tours, booze cruises, nightly drinking games, etc.
Best Non-Party Backpacker Hostels in Krabi
Located at Krabi Town
Extremely social atmosphere.
Facilities: Functional Gym, Shared Kitchen, self-service laundry.
Excellent value for money.
2. Reset Hostel
Only hostel located at Klong Muang Beach.
Free breakfast and free tea/coffee throughout the day.
Facilities: Self-service laundry (Washing Machines) available.
More peaceful and less social atmosphere.
3. K-Bunk
Located 1.5 Km to the Beachin Ao Nang.
PS4 for late-night gaming.
Sister hostel of Slumber Party where you can head for the parties.
Various treks, trips and tours organised by the hostel.
Best Offbeat Hostels
Only hostel in Railay.
Resort style hostel, has a panoramic view over the beach and surrounding mountains.
Facilities: A pool, two bars, restaurant and common areas.
Railay Pub Crawl – Starts at Blanco every Monday, Wednesday and Friday, Blanco Boat Party – Every Tuesday and Saturday.
2. The Bananas
Bananas Bungalows is a secluded bungalow located in Klong Muang.
Best for nature lovers with natural mountain, mangrove and seaside surroundings.
Bit far from the main tourist centers.
3. Glur Hostel
A 'serene hostel' located at Ao Nang, Krabi. With lots of open space, garden, and an outdoor swimming pool.
1.5 kilometers away from Aonang Beach.
Free breakfast and common kitchen.
Best Cheap Hostels In Krabi
1. Pak-Up Hostel: Also the best backpacker hostel in Krabi.
2. Amity Poshtel: Hostel with a premium feel located in Krabi Town a bit away from Ao Nang.
If the post helped, do share it and pin it to check later. Feel free to ask any queries in the comment section.
If you like my content, Join the BookPackTravel Community! Please do check out me on Instagram | Youtube | Facebook | Pinterest. And yes, please Subscribe to the blog, Thanks! 🙂
Happy Travelling !!
---
Disclosure: Links in the above post are affiliate links. When you buy any product through my affiliate link (not necessarily from the above products), I earn a little commission that helps me in travelling and in running this blog. Please note that you don't have to pay any additional cost if you are buying through my affiliate links. Thank You.